CABINET REFINISHING
Cabinet Refinishing in the Spearfish, SD Area
Cabinet refinishing is now a popular way for homeowners to give a fresh look to their kitchens. It used to be that cabinets would be installed and the homeowner would live with them for as long as they had the house. That is no longer the case!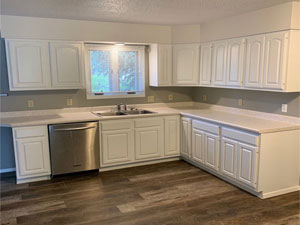 However, it is very important that the proper care, preparation and planning is done before undertaking a cabinet refinishing project. Much attention needs to be given to the materials the cabinets are made from and the proper products that can be used to refinish them. There are also many steps to the process, if you want to be sure the cabinets come out looking great and the finish will last a long time. Unfortunately, we've had to rescue homeowners from DIY cabinet refinishing projects that they started only to find out the project was much too big for them to accomplish.

When you call on the experts at Lamb Painting LLC to refinish your cabinets, we'll start by asking you exactly what you'd like us to do. Then we'll evaluate your cabinets to determine what finishes are going to give you the best results. We'll share our evaluation with you and let you know if we think there could be any challenges.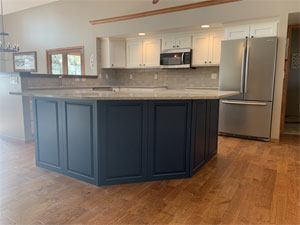 Once we've agreed on a plan, we'll get to work. The process of cabinet refinishing can take multiple days, so we'll be sure to let you know how long we anticipate the job to take and work with you on scheduling. We will work as quickly as we can, but our main focus will be on providing you the quality you are looking for.

If you live in Spearfish, Deadwood, Sturgis, Belle Fourche, Sundance, Rapid City or other areas of the area and you'd like to have your cabinets refinished by one of the best painting contractors in the area, give us a call today. We'll be happy to give you an estimate for the services you are requesting.

Call us today at 605-642-5015 or request an estimate
To learn more about our Cabinet Refinishing services, call us at 605-642-5015 or request a quote by clicking below:
Request Quote