INTERIOR COMMERCIAL PAINTING
Spearfish, SD Professional Painting Company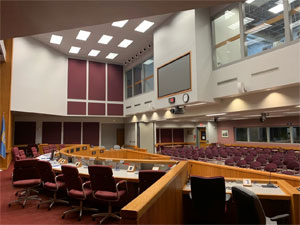 Most interior commercial painting projects in the Spearfish area have many more complexities than a typical house painting project. You don't want to have just any painter taking on your commercial project. You need a professional painting company with experience in successfully completing interior commercial painting jobs.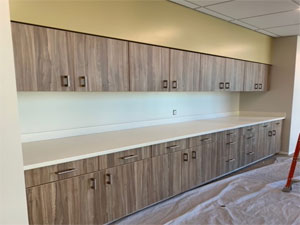 At Lamb Painting LLC we've got the experience and expertise to have your commercial building looking great, whether it's a new build, a remodel or just a retouch. Due to the more complicated systems a commercial building includes, painting can be tricky. We'll have no problem handling any challenges and can apply any wall coverings or coatings beyond paint, if necessary.

If your project is a retouch or repaint in a space that is full of furnishings and/or equipment, you can be sure that the team here at Lamb Painting LLC will take the same great care we do with our residential projects in the Spearfish, SD area. We are very conscientious when it comes to being clean and tidy. We keep our work area contained and complete a full clean-up quickly after finishing the project.

We will work with you on scheduling and make our best efforts to minimize the impact on any active businesses in the space. As a professional painting company, we've worked directly with commercial building owners and also with general contractors, so either way works well for us.

We do small jobs and large jobs, and regardless of the size of your project we will give you the service you deserve.

If you've got an interior commercial painting project in Spearfish, Deadwood, Sturgis, Belle Fourche, Sundance or a neighboring area and you'd like to have it completed by a professional painting company, give Lamb Painting LLC a call today. We'll be happy to give you an estimate for the services you are requesting.

Call us today at 605-642-5015 or request an estimate.
To learn more about our Interior Commercial Painting services, call us at 605-642-5015 or request a quote by clicking below:
Request Quote